Categories:

Lost Treasure, Strange News
Tags:

artifacts, assault weapons, buried treasure, cache, coins, collections, gold, horde, jewelry, museum, Scotland, slilver
Leave a comment
As archaeologists dig deeper into the burial mound, ancient sources tell a tale of family drama and palace intrigue.
PHOTOGRAPH BY ARALDO DE LUCA, CORBIS
PUBLISHED NOVEMBER 21, 2014
Suspense is rising as archaeologists sift for clues to the identity of the person buried with pomp and circumstance in the mysterious Amphipolis tomb in what is now northern Greece. The research team thinks the tomb was built for someone very close to Alexander the Great—his mother, Olympias; one of his wives, Roxane; one of his favorite generals; or possibly his childhood friend and lover, Hephaestion.
Alexander himself was almost certainly buried in Egypt. But the final resting places—and the rich historical and genetic data they may contain—of many of his family members are unknown. The excavation at Amphipolis is bound to add a new chapter to the history of Alexander the Great and his family, a dynasty as steeped in intrigue, conspiracy, and bloodshed as the fictional Lannisters in the popular television series Game of Thrones. Among Alexander's family, "the king or ruler who ended up dying in his bed was rare," says Philip Freeman, a biographer of Alexander the Great and a classical historian at Luther College in Decorah, Iowa.
Palace Intrigues
To understand these palace intrigues, one must begin with Alexander's father, Philip II, who ascended the throne of ancient Macedonia in 359 B.C. At the time, Macedonia was a modest mountain realm north of ancient Greece, but Philip had big dreams. He transformed Macedonia's army from a band of ragtag fighters into a disciplined military machine, and he armed it with a deadly new weapon, thesarissa, a long lance designed to keep enemy troops from closing in on his phalanxes.
A natural-born conqueror, Philip led his army to the west, crushing and intimidating the major Greek city-states until all had surrendered to his rule. "Philip II was a traditional warrior king," says Ian Worthington, author of By the Spear: Philip II, Alexander the Great, and the Rise and Fall of the Macedonian Empire. "He was always in the thick of battle."
By custom, Macedonia's kings married multiple wives, often for the purposes of sealing political alliances with powerful neighbors. Alexander's mother, Olympias, was a daughter of the king of Molossia, a realm that encompassed part of modern Albania, and she claimed descent from the legendary Greek hero, Achilles. She was one of Philip's many wives, and according to ancient historians, she schemed relentlessly at court to put her son on the Macedonian throne. Some historians even suspect that she poisoned Alexander's older half-brother, impairing his mental faculties.
For a time, her intrigues seemed to succeed. Philip groomed the young Alexander as his heir, providing the boy with a first-class education from a renowned tutor, Aristotle, and encouraging his prowess as a warrior.
But important Macedonian nobles at Philip's court viewed Alexander as half foreign and possibly illegitimate. By the time Alexander reached his late teens, Philip seemed to share these doubts. He took a new Macedonian wife, and during a drinking party, Philip allowed Alexander's legitimacy to be publicly questioned. Then Philip drew his own sword on Alexander, a mortal insult.
PHOTOGRAPH BY THE GREEK CULTURE MINISTRY, EPA
Philip later tried to patch things up, but he had created a dangerous enemy. Exactly what happened next is the subject of debate, although the bare facts are well known. In 336 B.C., Philip threw a lavish public wedding for one of his daughters and invited members of neighboring royal houses to attend this state occasion.
As part of the festivities, Philip planned to stage public games at daybreak in the theater at Aigai, his capital city. He strode into the stadium, wearing a white cloak over his shoulders. On one side was Alexander; on the other was his new son-in-law. Philip waved away his bodyguards, and as he stood at the center of the theater, the large crowd began to roar with approval.
"That was the last thing he ever heard," says Worthington. An assassin stepped out from the crowd and stabbed Philip to death as the guests watched in disbelief. In the ensuing bedlam, the murderer, a man named Pausanias, bolted from the theater toward a spot where horses were tethered and waiting for him. But just as Pausanias was about to escape, he tripped and fell, and three of Philip's bodyguards speared him to death.
Conspiracy Theory
Did Pausanias act alone? Some ancient texts suggest that he did, assassinating Philip in a jealous rage. Many of the ancient Macedonian nobles were bisexual, and Philip was no exception. He had taken Pausanias as his lover, and when he tired of him, he discarded the young man and even allowed others to sexually abuse Pausanias. So Pausanias may have murdered Philip in an act of revenge.
But several clues point to a conspiracy, says Worthington. Pausanias, for example, fled to a spot where multiple horses were waiting, suggesting that several people had made plans for escaping the crime scene.
"I think Pausanias was manipulated to kill Philip," says Worthington, who suspects that Olympias and Alexander played key parts in the assassination. Both mother and son had been deeply insulted by Philip. In addition, they may have feared that Philip's young Macedonian wife would produce a Macedonian heir more acceptable to the local nobility. The only way to prevent this would be to eliminate Philip. So Worthington theorizes that Olympias and Alexander poisoned Pausanias's mind and encouraged him to murder Philip.
Other classical historians aren't so sure Alexander was guilty of patricide. Nevertheless, says Luther College's Freeman, "if you put Alexander on a couch today and tried to analyze him, you could have a lot of fun."
PHOTOGRAPH BY DEAGOSTINI, GETTY IMAGES
The King Is Dead, Long Live the King
With Philip gone, Alexander had to convince the Macedonian court that he deserved to be king. He planned a costly funeral for his father, cremating the body on a massive funeral pyre and constructing anelaborate tomb for Philip on the outskirts of Aigai (the modern Greek town of Vergina), some 100 miles from Amphipolis. As Macedonia's aristocracy looked on, Alexander buried his father "like a Homeric hero," says Ioannes Graekos, an archaeologist and curator at the Royal Tombs Museum in Vergina.
Inside the tomb, Alexander interred a gold chest containing Philip's skeletal remains, as well as a host of royal treasures, from a gilded crown to a golden scepter, a gold cuirass, and a gold- and ivory-adorned deathbed. Over the doorway, the young king had artists paint a hunting scene showing Alexander and his father closing in on a lion.
PHOTOGRAPH BY THE GREEK CULTURE MINISTRY, AP
"Only royalty can hunt lions, so Alexander was honoring his father, but he was also honoring himself," says Terence Clark, an archaeologist at the Canadian Museum of History in Gatineau, Quebec, who, along with National Geographic and others, is helping to organize a major new traveling exhibition on the heroes of ancient Greece, including Alexander the Great. "It's a definitive statement that Alexander is now in charge."
But despite his appearance of confidence, Alexander still feared rivals at court. He ordered the deaths of his cousin Amyntas and of one of Philip's young wards. And his mother, Olympias, took care of enemies among the royal women. According to at least one ancient text, she forced Philip's young Macedonian wife to commit suicide and arranged for the murder of her rival's daughter. Olympias, says Elizabeth Carney, a classical historian at Clemson University in South Carolina and biographer of Alexander's mother, was "a political woman."
That left just the army. Alexander had to convince Macedonia's generals and soldiers alike that he was a commander like his father. So he embarked on a series of military campaigns, quelling rebels in the Balkan region, crushing the city-state of Thebes, and leading his army to one victory after another. By the time he turned 21, Alexander was firmly in control of Macedonia and Greece, and ready to embark on the conquest of Persia.
Alexander extended his rule to lands as far south as Egypt and as far east as India, creating one of the greatest empires of the ancient world. His closest companion was his lover Hephaestion, a Macedonian general, and when Hephaestion finally succumbed to a mysterious ailment in 324 B.C. on an eastern campaign, Alexander was nearly undone by grief. According to the ancient writer Plutarch, he had Hephaestion's doctor crucified and massacred an entire tribe in the region to provide offerings for Hephaestion's spirit.
PHOTOGRAPH BY ATHANASIOS GIOUMPASIS, GETTY
Things Fall Apart
By the time of his own death at age 33, Alexander was still in the east, planning the conquest of Arabia. He clearly preferred the thrill of battle to the numbing minutiae of governing. He had taken at least two foreign wives, but had produced no legitimate heir to his massive empire and had given little apparent thought to the matter of succession. Soon after he died of a mysterious fever in Babylon, his generals, nobles, and family members began fighting bitterly over the succession. In the end, his vast empire was divided as spoils of a civil war, and his entire direct line was wiped out.
Alexander's mother met her end at the hands of a ruthless Macedonian noble, Cassander. To clear the path to the Macedonian throne, Cassander took Olympias prisoner during a siege and executed her. Then, like Alexander himself, he set about eliminating other potential plotters. He imprisoned Alexander's most important foreign wife, Roxane, and his posthumous son, Alexander IV, at Amphipolis—and had them both secretly murdered in 311 B.C. With the dirty work done, Cassander ruled the kingdom of Macedonia until his death in 297 B.C.
Most archaeologists today are convinced, based on historical accounts, that Alexander himself was buried somewhere in Egypt, quite possibly in the city that bears his name today, Alexandria. But researchers have yet to find the tombs of Olympias, Roxane, Hephaestion, and many of his generals. Perhaps the archaeological team clearing the mysterious tomb at Amphipolis will yet find the remains of one of them.
Categories:

Lost Treasure, Strange News
Tags:

Achilles, Alexander the Great, artwork, boyfriend, General, Greece, Greek goddess, Hephaestion, Macedonia, Parsephone, Phillip II, tomb
Leave a comment
Intrigue over how German-made 12th century blade, adorned in Sweden, reached Siberia.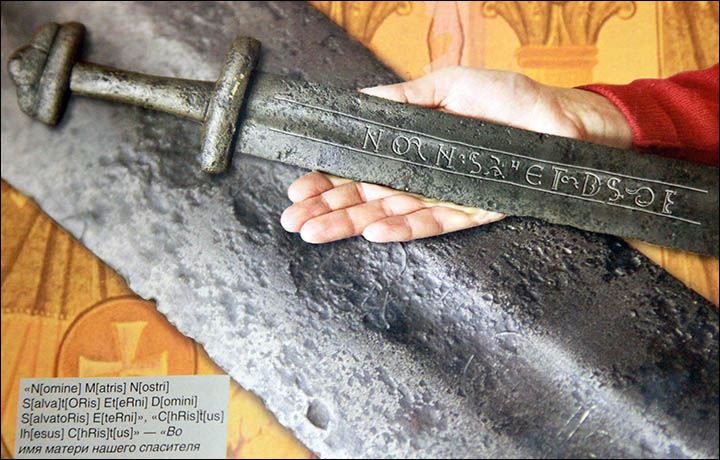 The scientists would be keen to hear from European experts who could throw more light on its origins. Picture: The Siberian Times
The medieval sword was discovered buried under a tree in Novosibirsk region, and scientists are keen to unlock its secrets. The weapon was unearthed by accident  in 1975 and remains the only weapon of its kind ever found in Siberia.
An exciting new theory has now emerged that it could have belonged to Tsar Ivan the Terrible, and came from the royal armoury as a gift at the time of the conquest of Siberia. The hypothesis, twinning an infamous Russian ruler and a revered battle hero, could turn it into one of the most interesting archaeological finds in Siberian history, though for now much remains uncertain.
What Siberian experts are sure about is that the beautifully engraved weapon was originally made in central Europe, and most likely in the Rhine basin of Germany before going to the Swedish mainland, or the island of Gotland, to be adorned with an ornate silver handle and Norse ruse pattern.
The scientists would be keen to hear from European experts who could throw more light on its origins.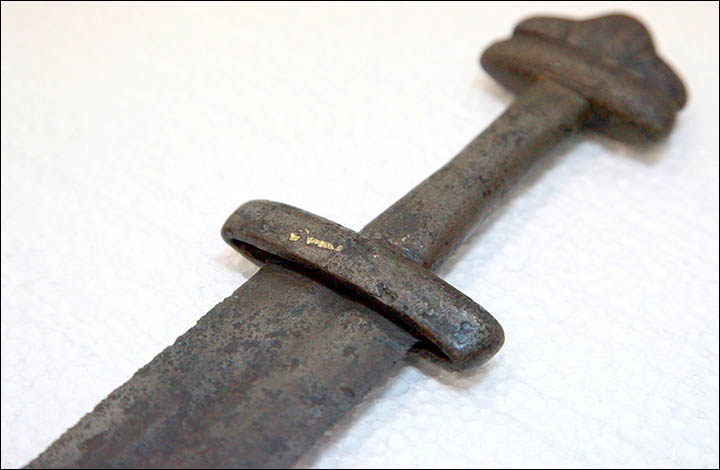 ---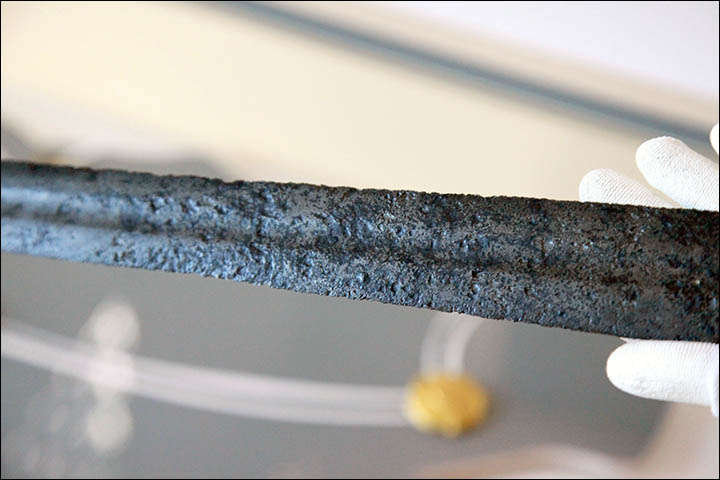 ---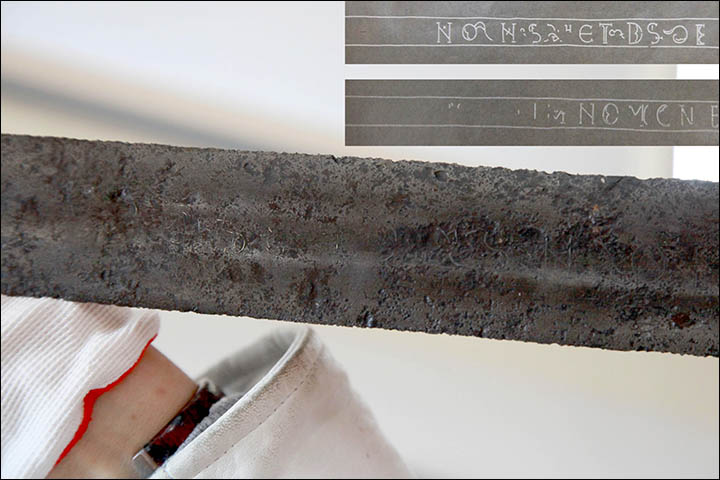 The blade was made in the Rhine basin of Germany in late 12th or early 13th century. Pictures: The Siberian Times
'Both sides of the blade have 'rune' inscription which was abbreviated', said archaeologist Vyacheslav Molodin, the man who led the excavation – in Vengerovo district – which found the weapon. 'The style of calligraphy proves that it was made by people with knowledge of advanced epigraphic writing techniques'.
Russia's leading experts at the Hermitage Museum in St Petersburg decoded the Latin wording on the one metre long blade.
The main inscription reads: N[omine] M[atris] N[ostri] S[alva]t[ORis] Et[eRni] D[omini] S[alvatoRis] E[teRni], with an additional one on the same side of the blade saying C[hRis]t[us] Ih[esus] C[hRis]t[us]. This means:'In the name of the mother of our saviour eternal, eternal Lord and Saviour. Christ Jesus Christ.'
The inscription on the reverse side is harder to read, but the first word  'NOMENE' – clearly seen –  helps reconstruct the rest as 'N[omine] O[mnipotentis]. M[ateR]. E[teRni] N[omin]e', which means 'In the name of the Almighty. The Mother of God. In the name of Eternal'.
There has been widespread debate about how the sword ended up in Russia, with assumptions it was either carried along a trade route, or taken as a spoil of war from skirmishes in the region. In one of the hypothesis, Academician Molodin has suggested the blade –  currently stored in the collections of the Institute of Archaeology and Ethnography in Novosibirsk – could have been taken from Ivan the Terrible's armoury and brought to Siberia by the legendary warrior Ivan Koltso, ahead of the conquest of the region.
It was during Ivan's reign in the late 16th century that Russia started large scale exploration and colonisation of Siberia. Cossack leader Yermak Timofeyevich was hired to take on the Tatar forces under Khan Kuchum and Murza Karachi and lead the eastward expansion of the empire, with the sword a possible gift from the Kremlin.
The sword was uncovered at the base of a tree in the Baraba forest-steppe, less than three kilometres from where it is thought Koltso, Yermak's closest ally, died in battle. He was declared hero in February 1583, with church bells ringing out in Moscow, when it was announced he and Yermak had taken the capital of the Siberian Khanate, Kashlyk. But his new-found celebrity status did not last long, and he was killed with 40 men during an ambush 18 months later.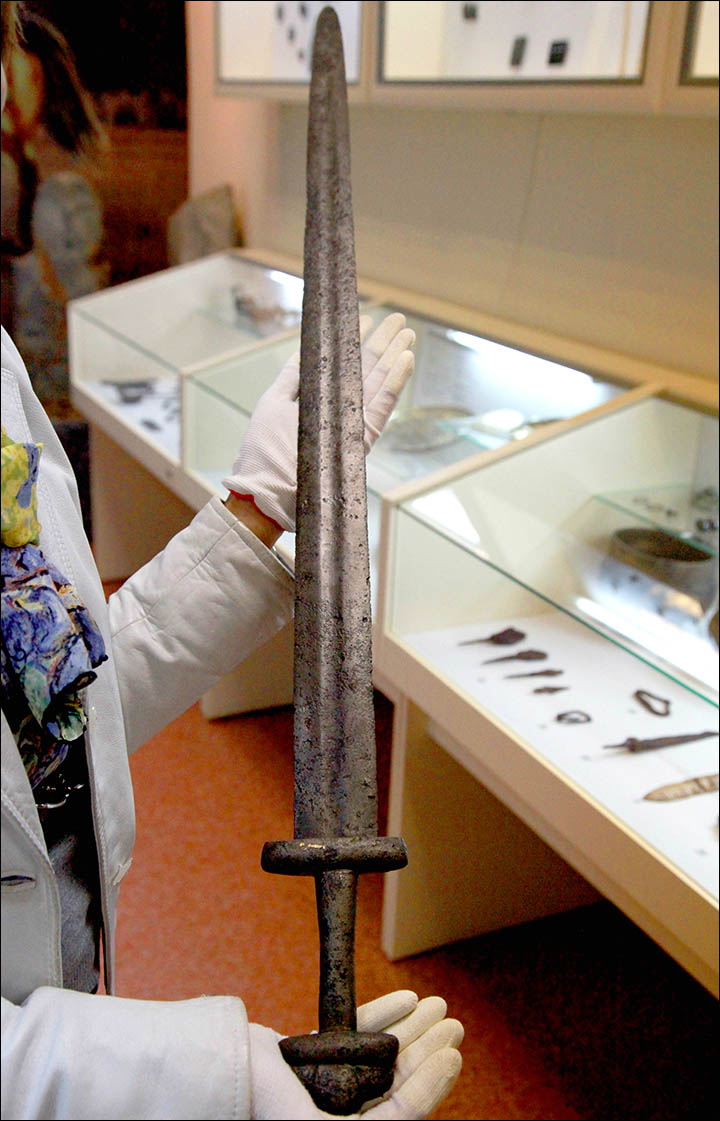 'It was as if it just dscended from some knights' fairytale'. Pictures: The Siberian Times
---
Molodin puts a health warning on his new theory but says: 'Imagine the last battle of the Cossack detachment headed by Ivan Koltso. The attack was unexpected. Picture someone immediately being killed by a treacherous stab in the back, and someone else grabbing a sword to fight the advancing Tatars.
'They are unequal forces and the Cossacks are trying to break through the crowds of enemies, but the ranks of the fighters are melting rapidly. Ivan strikes not one opponent. In his hands, the glittering giant sword, a gift from the Russian Tsar.
'In desperation Ivan and a few survivors of the Cossacks literally hack their way to their waiting horses.
'Ivan's leg is already in the stirrup and he is racing on the steppe, with his horse taking him further from the bloody battle. Behind him they chase, with arrows flying. And then, suddenly, the sword falls out of the hands of the hero and drops to the ground under a young birch tree.
'I am not sure that I am right, imagining all this, but the legend is really beautiful.'
He told Science First Hand magazine: 'I must note that none of the scientists mentioned it, perhaps because they didn't take it seriously. The only person who really liked that theory was (noted) Academician (Alexei) Okladnikov.  He even mentioned it in one of his last works.
'The hypnotise looks so brave and even fantastical that these days it is unlikely that I would mention it in a scientific work. But on the other hand, it does look very beautiful, plus life can often be more incredible than anything fantastical.
'Even now when I am writing this I believe that we should not exclude the version that the sword could have got to Baraba together with Yermak's squadrons. Despite his Cossacks having sabres and firearms, they were still using swords. So it was quite possible they were using them during that trip'.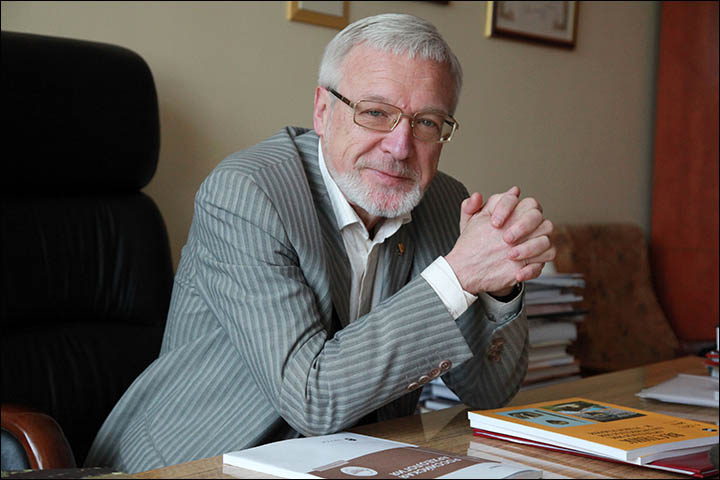 Vyacheslav Molodin: 'Life can often be more incredible than anything fantastical'. Picture: The Siberian Times
It was during the summer of 1975 that Molodin, then a young archaeologist, had been working on the banks of the River Om with a group of students from Omsk and Novosibirsk. Their aim was to study the settlements and cemeteries of the Bronze Age, with a focus on group burials.
At a separate site another group of students had been excavating near a large birch tree, but were under instruction from Molodin not to go near it, certain that no one was buried there. However, Alexander Lipatov, the head of the excavation team, disobeyed the brief and stumbled upon what they thought was a rusty scythe just five centimetres under the grass. As they dug further it became apparent it was a large sword.
Mr Molodin told The Siberian Times: 'The sword wasn't hidden deliberately, or 'buried'. It was lying at a depth of 3-5 cm, right under the soil near the birth tree which was close to an old road. I remember the moment we found it as if it was yesterday.
'We were not supposed to work in the area where we found the sword. It was one of my younger colleagues Alexander Lipatov who decided to 'prolong' the excavation site towards a big birch tree. I remember getting annoyed when I saw it – the area along the birch tree roots was visibly very hard to dig, while my estimates were that the burial mound was not stretching as far as the tree, so there was no point to clear up that space anyway.
'I expressed my reservations about it to Alexander, and he accepted them, but said that he was nervous about making a mistake in defining the site's borders and decided to go a bit further 'just in case'.
'If it wasn't for his 'mistake' we would have never found the sword.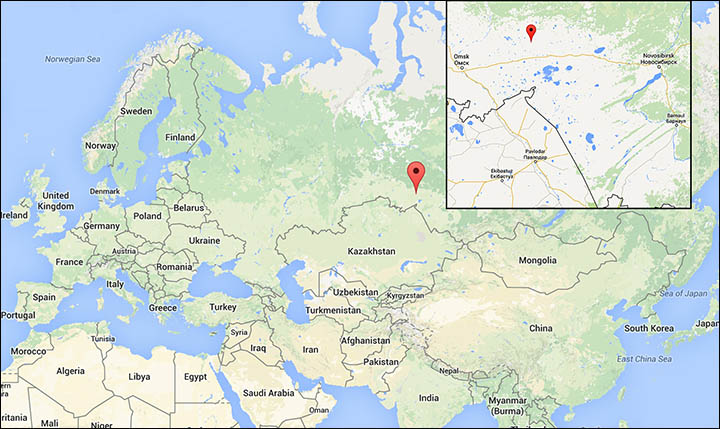 ---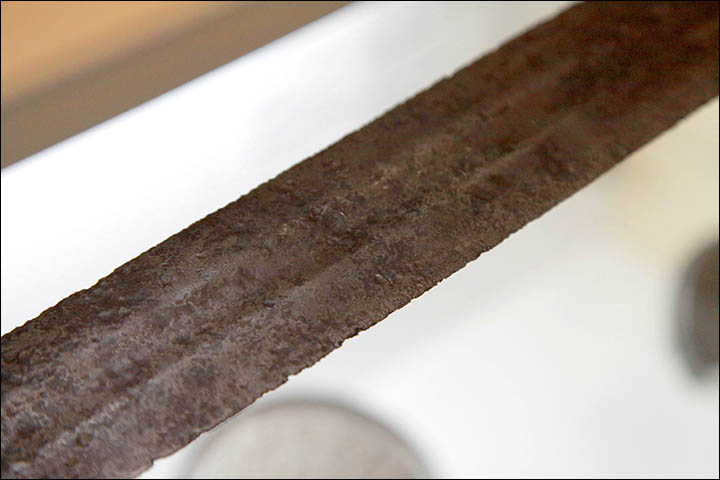 ---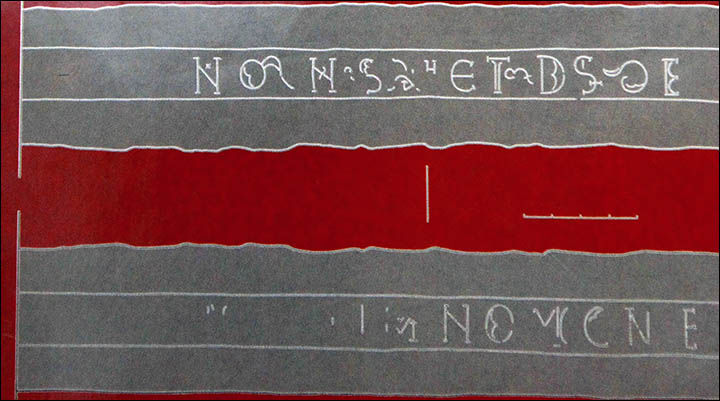 'It was incredibly well-preserved, yet I was scared to raise it from the ground'. Pictures: The Siberian Times
'It was close to lunch time when I was suddenly asked to come to that plot of land near the birch tree to 'check up some piece of iron', as they said. 'Most likely it would be a scythe', I thought to myself as I walked towards the site where they found it.
'Looking back, I see how it was a pure stroke of luck. Every man in our expedition longed to take it and hold it his hands, it was an incredible piece of armament'.
Mr Molodin told Science First Hand magazine: 'Carefully and slowly we cleaned the soil off, uncovering a strip of iron, which was wider at one end, and narrower at the other. It took us an hour to clear the soil completely to see a massive sword, about a metre long with a typical iron hilt of medieval knight's swords with a clearly expressed crossbar guard and tripartite pommel.
'It was incredibly well-preserved, yet I was scared to raise it from the ground. I was scared it would fall into pieces in my hands.
'Finally I put my thin bladed knife underneath the sword and raised it… You know, I've seen swords like this in museums and in scientific books, but it was my first time ever to hold it in my hands. It was as if it just descended from some knights' fairytale.
'I slowly twisted it, noting sparkles of silver on the guard and blade. It was so well preserved that you could in fact use it in the battle almost straight away. Others took to look at the find, too.
'Finally like a water through rushing through a dam, the shock of realising what we've just found broke through and we began talking all at the same time. I can't describe the feeling of surprise and excitement.
'How did it get here, in the heart of the Western Siberia, this clearly so European looking medieval sword? How did it preserve so well? Where did it come from? '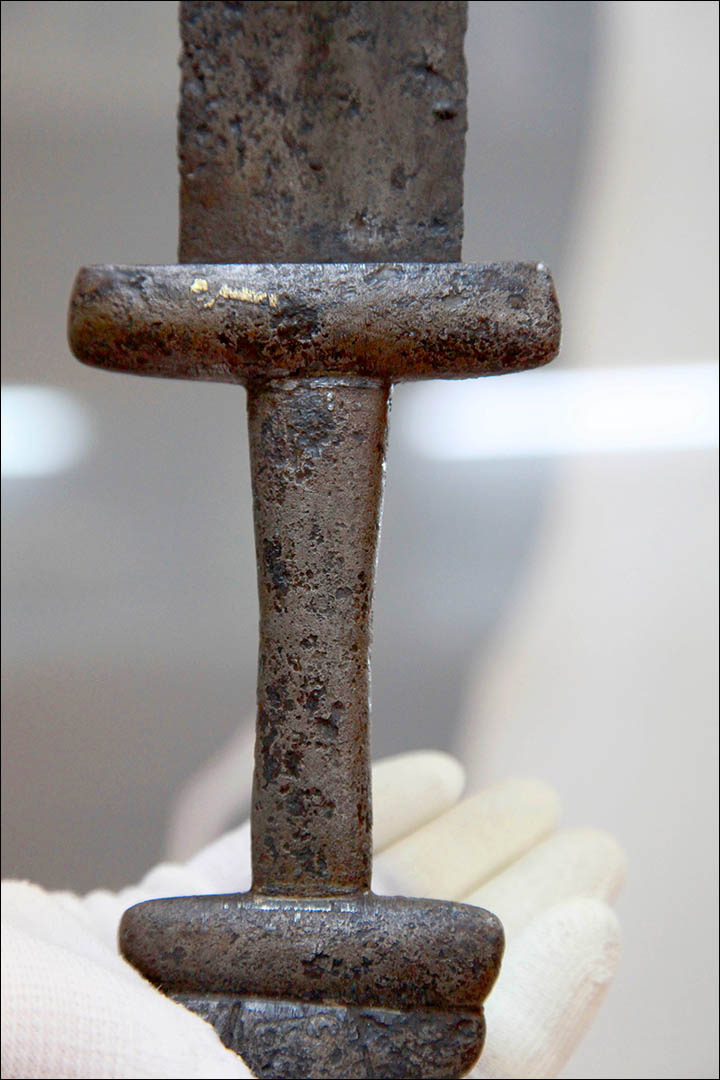 'Every man in our expedition longed to take it and hold it his hands, it was an incredible piece of armament'. Pictures: The Siberian Times
Swords such as these were not typical in Russia or across Asia, and it was more similar to those widely used by European knights. After extensive research on ancient weapons, Vyacheslav Molodin prepared a report on his findings and concluded it was from Europe and dated to the late 12th or early 13th century.
Questions as to how the sword reached Russia from Sweden have been asked since 1976, with the first theory that it was carried during trade missions.
According to Arab historians, in the middle of the 12th century there was an ancient northern path through Russia to the River Ob, called the 'Zyryanskaya road' or 'Russky tes'. Over the centuries archaeologists have found a treasure trove of coins, silver vessels and medieval jewellery in the Urals and lower reaches of the Ob, having travelled from the west.
The downside to this theory is that the steppe, where the sword was found, is separated from the lower and middle Ob by hundreds of kilometres of rugged forests and swamps. Others have argued the weapon could easily have travelled east as a result of bartering, or as a spoil of war from skirmishes between the Turkic people of the steppe and the nomadic Urgic population of the Siberian taiga. Amazing find.
A Bike Path Near Amsterdam Is Now Generating Solar Power
Read more: http://www.smithsonianmag.com/innovation/bike-path-near-amsterdam-now-agenerating-solar-power-180953312/#gth1bYqI2sz99iTD.99
Update on the Jolie Benefit Prize raffle…these are the prizes to day…16 Nov 2014
My 6 year old niece Jolie was diagnosed with stage 3 cancer last month. She spent 2 weeks in the hospital starting her first round of chemo.She spent 3 weeks at home doing weekly 1 day chemo treatments. She is now back in the hospital doing a 5 day treatment session. Please keep the prayers coming!
Jolie in the hospital October 28th——–Brandy and Jolie playing outside November 3rd
This will be a long battle and to support My family I am holding a fund raiser. A chance for people to win some great prizes and help my sister Brandy Kneip and her family to focus on Jolie instead of bills.
Donations being accepted through paypal to kneipfamily@yahoo.com
Please list as gift to Jolie!
For donations by check, as well as cards or gifts to Jolie please send to:
Ron Guinazzo (Checks made payable to Brandy Kneip)
PO Box 60603
Chicago, IL 60660
For every $20 increment of donation you will receive 1 entry for the drawing
(i.e. $100 = 5 entries), prizes are listed below.
First drawing will December 19th and performed live via internet feed. Final drawing will be at local event in January
We gratefully thank all who provided the following
List of Donated prizes…
Donated items will be added as received. Please check back often.
Brand new

Excalibur II

Donated By

Fisher F75 Ltd


T

he F75 in black, with Boost and Cache Locating Processes. The metal detecting industry's premier relic hunting and ultimate multi-purpose metal detector

Donated By

XP DEUS Metal detector

Not sure of the model yet

Donated byMetaldetector.com

and

Garrett AT Pro

WATERPROOF TO 10 FEET
Ideal for use in both fresh and saltwater
AT Pro will ground balance to saltwater.

Donated by

Celtic Gold coin

found by Chicago Ron

March 2012

A Continental Iron Age

uninscribed gold quarter stater

Gallo-Belgic DC

dating circa 70-50 BC. VA 69-1.

1.60g, 9.23mm

Recorded with the Celtic coin index

CCI 12.0365

All items will come with a copy of the Export paperwork,

Showing it as a recorded and properly exported find.

One Gram 999 fine

Gold Bar

Donated by

1300 – 1310 Edward 1st

hammered silver penny

Found By Chicago Ron

March 2014

1582 Elizabeth 1st

Hammered silver penny

sword mint mark

Found by Chicago Ron

March 2014

18th Century Toy Cannon

Found By Chicago Ron

March 2014

1689 James II Irish Gun Metal Shilling

Gunmoney is a token coinage issued by James during his Irish campaigns against William III (William of Orange). The coins are made from brass which was salvaged from many sources including church bells, but probably not cannons – from which the name derives.

Found and donated by Daniel OBeirnes Birmingham, UK

1765 pillar and waves

Spanish colonial silver coin design in the New World.  Struck at the Mexico, Santiago (very rare), Lima, Guatemala, Bogotá (very rare) and Potosi mints in the time period of 1732 to 1772

Found by Dave McMahon

1886 Morgan Dollar

AU condition

Donated by Dennis OConner

1634 Charles 1st

Rose Farthing

Found by Chicago Ron

March 2014

1783 Royal Artillary button

Found By Chicago Ron

March 2014

Author Dick Stout

a Pioneer in the hobby

A man that has given a lifetime of effort to imrpove and share the passion of this Lifestyle!

Several copies of his very informative books!

When i asked Dick if he would sign them he said LOL

" they're worth less that way "

Not a chance Dick!

Minelab ball cap Autographed by

DIG WARS Cast

Chicago Ron, Mark Slinkman, Larry Cissna, Mike Scott, Josh Silva, Abby Silva

Signed at Premier party

July 2013

Several

1 year subscriptions for

American Digger Magazine

Colonial finds Display

Nice display of Colonial era finds from the New Jersey area.

including a 1786 half real!

Found and donated by George Duckers

Buckle collection

1500 to 1800

Found by Chicago Ron

March 2014
Marine veteran Michael Smith wept Wednesday when he heard about the death of Chester Nez, the last of the original Navajo Code Talkers.
Smith, from Window Rock, who had met Nez several times, described him as a "quiet, humble" Navajo Marine.
Smith said that the passing of Nez — the last of the first 29 Navajo men who created a code from their language that stumped the Japanese in World War II — marked the closure of a chapter in the story of a special group of veterans.
Nez died Wednesday morning in Albuquerque, where he lived with his son Michael. He was 93. His family said he died of kidney failure.
http://www.azcentral.com/story/news/arizona/2014/06/04/arizona-navajo-code-talker-dies-nez/9965201/
The story which moved everyone: sixty-eight years after leaving Auschwitz, Menachem Bodner is using social media to search for his twin brother who he now knows also survived. Despite the lack of memories from a war-marred childhood, Bodner says that throughout his life he's felt a deep connection with his twin—and is positive he's still alive and out there. But where? Share the photo of Menachem, repost the story, join his search for the long lost brother on Facebook A7734. Menachem, we are with you! http://ow.ly/iY1n9